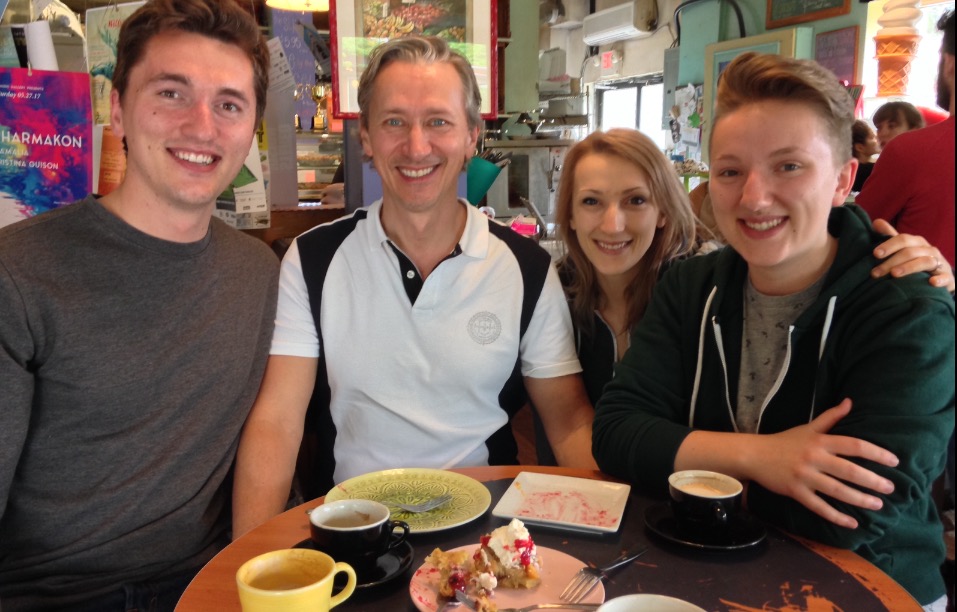 At Wanda's Pie in the Sky, Kensington, Toronto
Family can be one of the most enriching or horrible experiences we may every have.
This May long weekend I flew to Toronto with my two daughters to visit my son who lives there. My son takes the time to often fly here to Calgary and we thought it was time for us to return the favour.
The first day the weather was rainy, so we headed downtown to the St. Laurence Market and then returned to my son's apartment playing a new card game (40 ladders), talking and enjoying homemade lentil soup, along with sharing a box of chocolate coated caramels.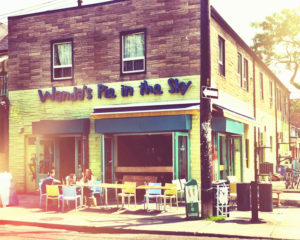 The next day the sun returned and we immediately headed for one of our favourite places in Toronto: Kensington. We stopped at Wanda's Pie in the Sky Cafe to enjoy their famous sour cherry pie and fresh chocolate croissants. I swear – it really is the best pie ever!
We later ventured back into the streets and explored parks, a few stores and watched street entertainers playing music from the 20s and 30s era. Then, we finished off the day at Vivoli, an Italian restaurant in Little Italy, enjoying lasagna and their savory thin-crust pizzas.
We later walked around exploring parks, stores and watched street entertainers playing music from the 20s and 30s era. Then, we finished off the day at Vivoli, an Italian restaurant, enjoying lasagne and thin-crust pizza.
Why Family?
When we spend time as a family, we reconnect in ways that can't happen with just anyone. We have so much history together. You get the chance to reminisce about good memories and even stupid ones. New memories get added to old ones. You talk through the tough times and how you've made it through. You get the chance to support one another with whatever ventures you are each taking on. And, you even get the opportunity of working through a conflict or two that is bound to arise.
Not everyone gets along with family. Some family members are selfish and even sociopaths. Sometimes you need to create boundaries with such people in order to be safe. We don't choose our relatives.
What is Family?
We need a sense of family, whether it be with our blood relatives or close friends; and we really only need a small handful of people to find contentment.
I've come to see family as being those people you gather into your life that you share a special affinity with. This can include family members, good friends or even mentors.
Over a lifetime, we may need to recreate those relationships as we move from one location to another, change occupations or experience the end of some relationships.
"I was afraid…"
At the birth of my first child, I was both ecstatic and afraid. I didn't have a good family growing up and I was very aware of not having had positive role models. It was up to me to find better examples of people I wanted to be as a father. My fear motivated me to be a better parent than what I had as a child. It got me reading every book I could find on the subject and spending time with other parents who were doing a great job at raising their own children. We can't choose our past, but we can choose how we will fashion our future by bringing into our lives the positive influences we need for success.
I am proud of each of my four adult children. They have turned out well. They have values of compassion, authenticity and competency. Each of them is unique in their own way of living life, being true to themselves and seeking to make a difference.
We are wired for relationship. Some of us get lucky with good parents and relatives. Others don't. Still, there are good people everywhere. No one needs to feel lonely for too long.
For those of us who do not have close blood relationships, we can draw into our lives like-minded people to spend time with and form a family-style bond. When you've journeyed long enough with a friend over years, they can very much feel like family.
The Spirit of Family
Family is imperfect. It is flawed, even as human nature is faulty. You may need to forgive often. Some family members will be closer. Others not at all. Yet, family can be beautiful.
I have learned that accepting one another is key to creating the safety and love we need to make family relationships nourishing and long-lasting over our entire lifetime. When our children grow up the relationship changes. We may still be the Mom or Dad, but it moves from being the parent, to more of a friend or mentor.
"We Haggstroms keep our souls clean"
I feel honoured that my children want to spend time with me now that they are older. They don't have to. I see many other parents who tell me their adult children have disappeared from their lives, or only see them out of duty, or on special occasions. Navigating family relationships is not always so easy. Past resentments can remain that hurt and cause ongoing pain when left unresolved.
I told my children growing up "We Haggstroms keep our souls clean", that as a family we work through misunderstandings and itchy issues as soon as they arise, attributing good-will to one another and seeking to resolve anything that could hurt the relationship.
Family takes work. It is the place where we can be supported in our ventures, grow in connection and where character is formed. Communicating honestly and with understanding goes a long way to building bridges with one another throughout the various stages of life that will keep us coming back together to re-experience the spirit of family.