Calgary EMDR Therapy for Trauma Anxiety Depression

Need to Get Over Past Experiences?
MICHELLE recovered from cancer, but remains afraid it will return at anytime. It's affecting her quality of life.
RYAN was abused as a kid. It still haunts him and he's noticing how angry he gets. He has started drinking more than usual.
JENNA just received the divorce papers. Her self-esteem has hit rock bottom. She wonders how she will ever heal.
ALEX was involved in a car accident and gets retriggered every time he passes through an intersection.
DAVE served overseas in the military and since he's returned he can't sleep. He can't get over some of what he saw.
EMDR Therapy, Eye Movement Desensitization Reprocessing
EMDR was developed by Francine Shapiro, Ph.D. and is a specialized therapeutic method that helps in memory processing and moving through painful experiences. It uses eye movements to assist the parts of the brain (such as the hippocampus) to help transform traumatic memories such as accidents, abuse, violence, emotional pain, grief and disasters.
EMDR is a specialized form of psychotherapy that has little talking and mostly focusses on processing the traumatic memory where the therapists guides the client through a transformative process until the trauma lessens in intensity.
The bilateral side-to-side movements of the eyes have been found to assist the brain in processing memories. One theory relates it to what happens with rapid-eye movement sleep when we are dreaming and often processing events that have taken place in the day.
EMDR has official recognition. For example, EMDR is approved by the US Department of Defense and the American Psychiatric Association as an effective treatment for post-traumatic stress disorder.
WATCH THIS VIDEO. EMDR Explained – NEWS NBC REPORT
When memories keep replaying themselves over and over in our minds they are stuck and not processing through to completion. EMDR can help to stop that cycle and bring peace to the mind.
Here at Solutions for Life Calgary, we use EMDR to help neutralize the painful memories in a way that can help you move on. Pain can be transformed toward more peacefulness and renewed energy to take on life again.
We will listen to your story and how it's affecting you. It can be a huge relief to talk with someone who isn't going to judged you and who will patiently guide you through the process until you find greater peace.
Quotes:
"EMDR is the most powerful and integrative intervention I have learned in the past five years."
– John C. Norcross, Ph.D., University of Scranton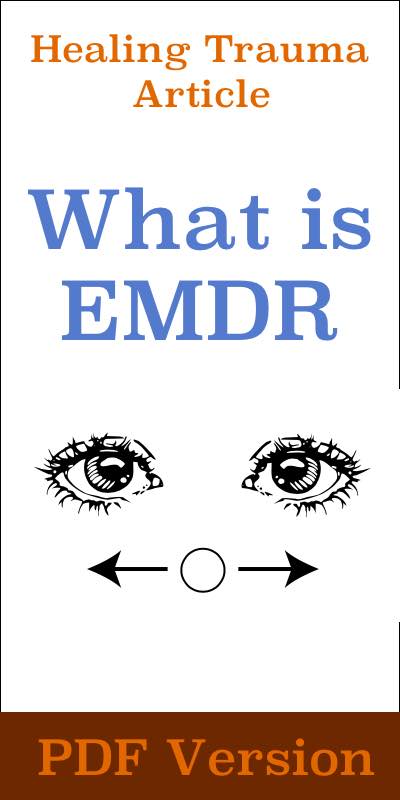 "The speed at which change occurs during EMDR contradicts the traditional notion of time as essential for psychological healing. Shapiro has integrated elements from many different schools of psychotherapy into her protocols, making EMDR applicable to a variety of clinical populations and accessible to clinicians from different orientations."
– Bessel A. van der Kolk, MD, Professor of Psychiatry, Boston University School of Medicine
"EMDR quickly opens new windows on reality, allowing people to see solutions within themselves that they never knew were there. And it's a therapy where the client is very much in charge, which can be particularly meaningful when people are recovering from having their power taken away by abuse and violation."
– Laura S. Brown, Ph.D.
"EMDR assists survivors in the immediate aftermath of violent trauma by breaking through the walls of denial, shock, grief and anger. Ideal for those who have been unable to forget past traumatic life events, as it allow for a rapid processing of even deeply rooted memories, giving individuals back control of their lives and their emotions."
– Dusty Bowencamp, RN CTR, Disaster Mental Health, American Red Cross
Question: Is all EMDR the same?
Just like with anything else, the tool is only as good as the person using it. To get the best results with EMDR, it is best to work with a therapist who has gone through additional training and supervision, along with years of experience, especially when treating complex issues.
EMDR does not work with everyone the same way, so being with an experienced professional can go a long way to helping resolve the issues you are dealing with. Further, there may be additional methods that could prove helpful where EMDR may not offer a complete solution. As such, a multifaceted or holistic approach can prove highly beneficial for many clients.
Calgary EMDR Therapy, Trauma PTSD Counselling
Want to Talk? We're here to help. Here at Solutions for Life Calgary, we help people heal.
Dr. Michael Haggstrom is very experienced in the use of EMDR. Further, through additional training in methods such as Sensorimotor Psychotherapy, Cognitive Behavioural Therapy and Accelerated Resolution Therapy, he provides an holistic and effective approach to trauma, anxiety and depression recovery. He says,
"My greatest joy in life is seeing clients who suffered from so much, finally find the peace they deserve. I know what it's like. I've been there too."
Want to know more?
Contact Dr. Michael below
Sources:
Eye movement desensitization and reprocessing (EMDR): Evaluation of controlled PTSD research. Journal of Behavior Therapy and Experimental Psychiatry. Francine Shapiro. Elsevier. September 1996.
Eye Movement Desensitization and Reprocessing (EMDR) and the Anxiety Disorders: Clinical and Research Implications of an Integrated Psychotherapy Treatment. Shapiro, F. (1999). Eye movement desensitization and reprocessing (EMDR): Clinical and research implications of an integrated psychotherapy treatment. Journal of Anxiety Disorders, Volume 13, Issue 6, November–December 1999, Page 621
An investigation of eye movement desensitization and reprocessing (EMDR) as a treatment for posttraumatic stress disorder (PTSD) symptoms of Vietnam combat veterans. James A. Jensen. Behavior Therapy. Elsevier. Spring 1994
Shapiro, F. (1989). Efficacy of the eye movement desensitization procedure in the treatment of traumatic memories. Journal of Traumatic Stress, 2, 199-223.